Pumpkin Spice Shakeology is BACK!
August 30, 2019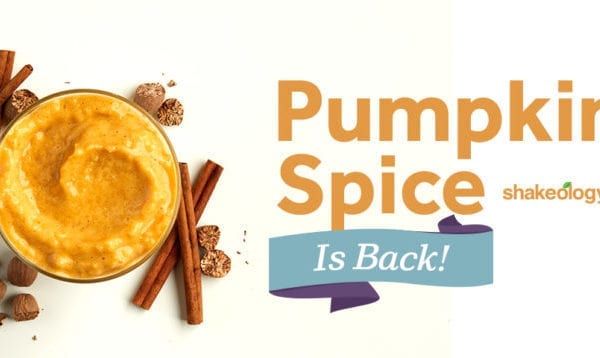 Can you believe that summer is A L R E A D Y over?! At least if one good thing has to come to an end, another good thing is coming our way:
Pumpkin Spice Shakeology IS BACK starting September 3rd, 2019 while supplies last!!
Pumpkin spice legit is my all time favorite flavor of Shakeology and I wish we had it all year long.  I am totally a Starbucks Pumpkin Spice Latte junky and we all know that PSL's are NOT the healthiest option!  Pumpkin Spice Shakeology gives you that taste of the season without killing your waistline and a nasty sugar crash. Last year it sold out in less than 24 hours!!!! So if you are looking for a way to get in the fall foods but want to keep it clean, this is an awesome option!  Or if you are already a Shakeology drinker this can give you some variety.
What is Pumpkin Spice Shakeology? It is a plant-based vegan limited edition, rich, creamy, shake with notes of pumpkin, cinnamon, nutmeg, and ginger that delivers the delicious taste of fall with all the benefits of Shakeology!
This shakeology flavor is offered in 14 single-serve packets, in the U.S. and CA while supplies last.
Pricing as followed:
USD
retail price: $74.95
coach price: $56.21
CA
retail price: $89.95
coach price: $67.46
Last year pumpkin spice sold out in the first 12 hours. If you want to get on my list for all the details make sure to complete the form below!  You will be the first to know when it hits our online store.